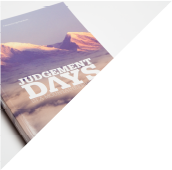 Judgement Day's is Tom's story of climbing in the Himalayas and
Karakoram over more than thirty years, where he reflects on
decisions and judgements he has made in the mountains and tries
to draw some conclusions about them and their sometimes life
and death outcomes.

Signed copies available to purchase exclusively from Outside now.


"It's a marvelous compendium of adventure,
knowlwdge and insight about the mountains
and how to stay alive in them."
Dave Pickford
Editor in Chief Climb Magazine


Extract:
Attempt to climb Gasherbrum 2 (8035m) in the Karakoram 2001.
Tom lead climbing without using bottled oxygen.

"Above us the weather looked ominous too. High lenticular clouds
raced over the summit. That night it snowed heavily. The inner
tent alone was not snowproof and I was not popular. Next morning
we set off in the dark for the summit with me breaking trail and
others following. We were traversing underneath the summit rock
pyramid. The angle of the snow slope was not extreme, but was
gentle enough to have accumulated a good cover of fresh snow.
I reached the furthest point of the traverse where you turn to
climb the final section to the summit. The snow was getting very
dangerous. At every step I sank to shin- or knee-deep and a huge
slab would be sent skating down the slope below. I stopped and
dug a hole to have a look at the layers. Even by my headlight
in the dark I could see it was clearly in a dangerous condition.
By the time we had gone to the summit and back the sun would
have been on the slope and made it even more so. I turned to
discuss it with the others. They, wrapped in their oxygen masks
and just following my steps, had not realised the danger, but
when they looked they agreed. With just a few hundred metres
to go we turned and headed back down.

A short time later the Chilean leader of an expedition to a
neighbouring mountain, Gasherbrum 1, was killed in an avalanche
on an equivalent slope to our own. I was relieved that my
assessment and decision had probably kept us safe."