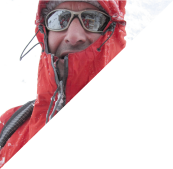 Tom has recently retired as Gear Editor for Climb Magazine and reviewed products
from many leading climbing brands. His views have become highly regarded by both
consumers, designers and manufacturers. (The new Gear Editor is Kevin Avery who can be contacted through the magazine)

Gearing Up 
A monthly feature that covers all aspects of our sport including the best tested
gear and advice on it's use.

Hot Gear 
A bi monthly feature covering a range of new products to the marketplace.

Gear of the Year
Alternates with Hot Gear and features a selection of three winning products from
one aspect of our sport. Selection is entirely impartial, based on the experiences
in use of a panel of climbers and mountaineers. Winning products will carry the
logo "CLIMB Gear of the Year" on their packaging and swing tags.

Tom's latest product review can be found in the March 2014 edition of
Climb Magazine.