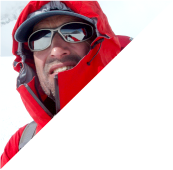 With a whole lifetime of adventure, experiences and stories,
Tom is available to give talks and seminars where he brings
to life his rich and colourful memoirs. He has earned a reputation
for bringing the wonder and extremities of mountainous and wild
places to both other enthusiasts and those who only dream of it.

To enquire about a talk for your group or organisation please
contact Tom directly using this form.

Early in 2011 I was with my friend Don Gladstone at Plas Y Brenin
for a meeting. In the evening I gave a slide show and lecture
to the students about the Himalaya. As is traditional at the end I
asked of there were any questions. Two young climbers at the
front who had been studying every picture and listening to my
every word put their hands up.

The first said:
"You have done loads of trips, how do you get the sponsorship?"

I said:
"I don't. I do it the old fashioned way. I either go to work and
save up or it is my work and I get paid."

The second one then asked:
"What is your greatest mountaineering achievement?"

"That's easy," I replied, "reaching the age of 56 years of age."
(And by January 2014 - 59 years of age!)


Upcoming events:

Winter 2021
Trekking to Kangchenjunga Nepal (Government regulations permitting)

Summer/Autumn 2021
Leading for KE Adventure Travel in Pakistan,Mongolia and Sichuan China (Government regulations permitting)

13th March 2021
Webinar for IBEX Mountaineering Club on climbing and trekking in western Mongolia

12th November 2019
Talk at the Lescar Pub, Sheffield, for the Friends of the Peak District

October 2019
Trekking in the Chinese Tibetan Alps to Minya Konka Sichuan Province

August 2019
Climbing Mount Khuiten and neighbouring peaks in western Mongolia

July 2019
Karakoram trek to Concordia, K2 BC and crossing the Gondogoro La for KE Pakistan

June 2019
Climbing Gondogoro Peak in Pakistan for KE. I last climbed it 31years ago with Joe Simpson!

October 2018
Trekking to Minya Konka Sichuan Province China

August 2018
Climbing Mount Khuiten Mongolia

July 2018
Climbing Gondogoro Peak Pakistan

June 2018
Presentation to British Association of Mountain Medicine

28th April 2018
Presentation to Girl Guide group at Glenbrook Centre Hope Valley Derbyshire

November 2017
Trekking in Southern Tasmania

October 2017
Trekking to Minya Konka Sichuan Province China

August 2017
Trekking in Ladakh and climbing Mentok Kangri

June 2017
Leading two trips to Pakistan K2 Base Camp and to cross the Gondogoro La

May 2017
Tenzing Hillary Everest Ultra Extreme 60km race

9th November 2016
Judgement Days lecture at Wellington and District Camera Club in Somerset

October 2016
Leading a second group to Mukot Peak in Dolpo Area of Nepal

August 2016
Return to Khuiten western Mongolia

July 2016
After a too long a gap returning to the Karakoram to trek the Baltoro Glacier and cross the Gondogoro La

6th June 2016
Presentation on Developments in Equipment and Clothing for the Advanced Diploma in Mountain Medicine course held in Hathersage Derbyshire

29th May 2016
Second attempt to run the Everest Ultra Marathon

October 2015
Leading a KE Group making the first English and American Ascent of Mukot Peak in the Dolpo Area of Nepal,followed by a Mera Peak trip

August 2015
Leading a KE Adventure Travel group climbing in the Altai Tavan Bhog Western Mongolia

20th June 2015
Fundraising Talk at Fulford Schoo York for Nepal Earthquake disaster

29th May 2015
Plan to run the Everest Ultra Marathon cancelled due to the Nepal Earthquake

May 20th 2015
Fundraising Talk for Nepal Earth quake Fulford School near York

20th March 2014
Clitheroe Mountaineering Club

May 2014
Competitor
Everest Marathon
Sign up at THEM to take part

July 2014
Expedition leader
Fann Mountains, Tajikistan

Oct 2014
Expedition leader
Mera and Island Peak, Nepal

Nov 2014
Exploratory and possible first
official ascent of Tabsar (6100m)
in the Tsum Valley, Nepal

To join Tom on his expeditions to
either the Fann Mountains, Mera
and Island Peak or Tsum Valley
you can enquiry at KE Travel.